Stu Weinshanker
President, Founder
858-454-2149
Stu is well known in the Microelectronics Packaging community for his knowledge and expertise in materials and joining. He is unique in his ability to bridge the gap between engineering and marketing, turning concepts into reality. Professional experience includes sales, marketing, engineering and operations management positions at industry leading companies.
Region: Southern California (LAX to Mexico Border), Arizona
Jim Lawson
805-551-0792
Jim has a wealth of microelectronic packaging knowledge and expertise - hybrid microelectronics, LTCC, and semiconductors. His prior experience includes engineering/sales positions at BTL/Western Electric, Sperry Rand, ITT, Raytheon, CTS, CMAC, National Semiconductor and LTCC Science & Technology, and is a former President of IMAPS.
Region: Southern California (LAX to Goleta), Sacramento area
David Pasfield
408-385-9300
David brings over 20+ years of back-end packaging and assembly expertise to Advanced Packaging Associates. His in-depth entrepreneurial experience allowed an awarding of 2 patents in packaging and assembly. David has held key Quality Engineering roles with Kyocera, and Sales / Marketing Management roles with Small Precision Tools, RJR Polymers, DeWeyl and Micro-Mechanics.
Region: Northern California, Oregon, Washington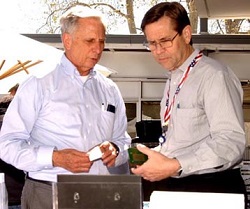 Jim (left) at Northrop Grumman, Woodland Hills